Main image: Match action from the dramatic Herald Cup Semi-Final between Buckland Athletic Reserves and Roselands. (c)MiraclePR.com
 It was a night of high drama at The Rec as Division One heavyweights Roselands took on perhaps their biggest challenge yet – to knock Buckland Athletic Reserves out of the Herald Cup semi-final. SDFL Premier title holders Buckland lead the way in the Premier by some margin and were looking to make their fifth Herald Cup final in six years. For Roselands, the prize would be their first ever Herald Cup final. This was a game that no-one was prepared to lose and, perhaps fittingly, it all came down to the width of a post in the last penalty of a breathtaking shoot-out. This is how it all unfolded:
The game started at a lively pace with Matt Beer racing down the left to win an early corner for Buckland and Buckland goalkeeper Luke Lofthouse quickly out from his goal to beat Richard Malone to the ball at the other end. The first goal-scoring attempt went the way of Roselands, wing-back Martin Luker sending a headed attempt narrowly over in the second minute. Then the ball was back down the other end, Buckland wide from a corner. Five minutes in, a loud roar erupted from the crowd as a Roselands player crashed to the floor by the touchline and, two minutes later, a fracas ensued between the two teams, the first of three confrontations in a heated six minute spell which could have seen players sent off from both sides on a different day. In between these incidents, Sol Barclay won a corner from a free-kick while Josh Stride did superbly to end Jordan Ewing's run on goal at the other end. With Malone down on the edge of the box, Roselands sent a free-kick over the bar in the 17th minute. But they only had to wait a minute for the opener, Roselands  attacking down the left before finding Malone on the right with plenty of net to aim at. The striker finished coolly to put the Reds one up. The lead barely lasted a minute and two goals for Buckland in the space of six minutes turned the game on its head with Mitchell McMillan putting through his own net and the impressive Ryan Dabbs adding his name to the score-sheet. Between those two goals, the goalkeepers were kept busy, Lofthouse tested by a long-range effort and Stride doing excellently to pluck a high cross out of the air. Further chances came and went for both sides as the half became very open. Beer, now over on the right, was heavily involved for Buckland, wide with one effort, on the half hour mark, and forcing Stride into another decent save in the 37th minute. At the other end, a cute ball into the box from Dexter Allsworth after 31 minutes caused mayhem at the back for Buckland and Malone's high ball three minutes later did likewise, Ryan Harrison-White pulling off heroics to get the ball away. Roselands won two corners in the last five minutes of the half as they pressed for an equaliser but it was a set-piece for Buckland that created the last real chance of the half, an audacious 30-yard dipping free-kick from Cameron Kelly requiring careful watching by Stride as it dropped on him with three minutes remaining.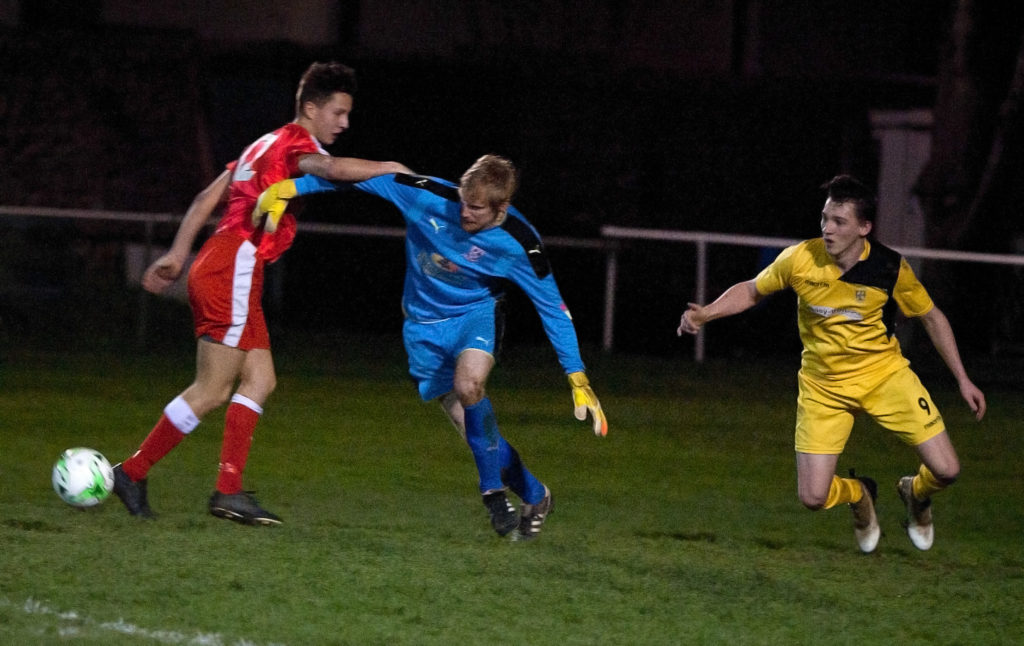 Buckland took to the field after the break intent on adding a third goal, Kelly almost taking Luker's ear off with his 53rd minute free-kick, Buckland heading over from the resultant corner after great defensive work from Danny Brown. Two minutes later, Ewing slipped past Luke Steward on the goal-line before crossing for Beer who also headed over. Next to try his luck was Dabbs with a low 57th minute strike well-saved by Stride. Just as it seemed the Yellows must score, Luker scored his first of the night, on 59 minutes,  a goal which suddenly lifted the Reds who began to play their best football of the game, matching Buckland in every department. In an end-to-end spell, Beer and Malone both sent low balls into the box but both goalkeepers proved equal to them. Malone fired another effort over on 67 minutes while some tenacious play by Allsworth in midfield turned defence into attack, McMillan feeding Luke Dandy whose long ball forward was overhit. Dabbs then did superbly to cut out a Marc Hagland run on 70 minutes before Roselands nearly got their noses in front. Lofthouse did well to get out to the ball ahead of the onrushing Roselands player but as the two came together another Roselands player headed the loose ball towards the empty net – only to see it bounce narrowly wide. It would be the last real chance for Roselands for the next 20 minutes as the tide turned once more in Buckland's favour. Tom Dunlop did well to deny Buckland a shot on goal after an excellent Dabbs through-ball but his efforts were in vain: from the resultant corner, Kelly blasted the ball home to put Buckland 3-2 up with 12 minutes left. From the restart, Buckland won immediate possession and Ewing beat Stride with a low shot across goal, only to see the ball cleared off the line.  Ewing fizzed another shot wide three minutes later and was a constant worry in the closing ten minutes, playing off the shoulder of the last man whenever Roselands, who were knitting together some neat moves in midfield, were broken down. Buckland looked to have done just enough to make it to the final as the match entered stoppage time but they still pushed for a fourth, creating three good chances – two low shots and a long-range dipping effort, in the first three extra minutes. When Sam Peardon was booked for pulling Allsworth down near the half-way line, Roselands had one last throw of the dice. Dunlop sent the free-kick deep into the box and Luker pounced with a great headed goal to make it 3-3 in the 95th minute.
After an opening Roselands attack went just wide, the Division One side had to dig in and defend as Buckland came at them with intent. There were few out and out chances but George Fice did well to beat lively sub Adam Blackburn before firing one over the bar 11 minutes in and Buckland also hit the post two minutes from the switch around. The second period of extra-time was more even, Buckland beaten by the offside flag as they sought to outpace Roselands on the flanks and Roselands with several dangerous set pieces. During one such period of pressure, 113 minutes in, Luker received the ball on the edge of the box and swept it into the bottom left past Lofthouse. Buckland threw everything at Roselands in the last five minutes: a header from Daryl Kewley's right-side cross flashed just wide and Stride was forced into another good save but the efforts looked to be in vain. The game went again into stoppage time and the whistle was blown – but not for the end of the game! The discord that had simmered throughout the game had erupted again and a number of off-the-ball incidents finally saw the red card come out – Buckland's Lee Chapman and Roseland's McMillan given their marching orders. Moments later and there was a third yellow flourished for Buckland making five cautions in total (Allsworth, Dandy, Fice, Kelly and Peardon). When play resumed, with six minutes of stoppage time played, Buckland whipped one last desperate cross into the box. Kelly met it with a superb header which beat Stride and presented Buckland with a lifeline.
Luker sealed a flawless evening for him with a confidently struck opening penalty. Beer got Buckland off the mark with an equally assured strike and the rest of the spot-kicks followed in the same vein, Dandy, Steward and Dunlop hitting the mark for the Reds and Harrison-White, Ewing and Dabbs on target for Bucks. Malone drove home a fifth penalty for Roselands to leave Peardon with the chance to take the match into sudden-death penalties. Peardon stepped up with the same confidence and his penalty was hit hard to Stride's right. However, this time the ball struck the post and bounced out, Peardon immediately turning with outstretched arm to congratulate Roselands on making it through surely one of the most entertaining Herald Cup games ever witnessed at The Rec.
"It feels amazing," said Roselands manager Simon Walker after the game. "I'm so proud of the players, they showed real character there. I'll be honest, over the whole match I think we deserved it.
"They were really good out wide. Some of the balls they put in for their goals were very hard to stop but we rallied, we talked about it at half-time and we stopped those balls coming in.
"I think we've got a really talented side. We didn't just upset the odds there, I thought we played some really good stuff at times. We took our goals very well
"It was a great game. I think anyone who came and watched today – and it was a large crowd – got their money's worth today. It had everything. I know it was a difficult game for the referee but to watch it – what a spectacle.
"This team is full of heart and they don't like losing. We're scared to lose and we do everything we can to make sure that we don't lose. We never give up.
"That was our fourth penalty shoot-out since we've started and we've won the lot. We won a shootout against Parkway in the Senior Cup and against Dittisham in one of the cups so we've prepared for that just in case. We felt confident.
"I thought some of our players were outstanding today and I thought we looked their equal. I've got to give a special mention to Martin Luker because he scored a hat-trick and a penalty but I don't want to single just one out because all of the players put a shift in. We've got a few players who can hardly walk now but try and get them to come off and they don't want to. It was a real team/squad effort today."
Next up is Wednesday night's clash between East Allington United and Watcombe Wanderers at Homers Heath and Walker hasn't got a preference for who he would like to meet in the final.
"We're not scared to play anyone, we never have been. Good luck to both teams. A lot of people think that East Allington are going to win the game but a lot of people thought that Buckland were going to win," said Walker. "Cup games are levellers. Best team on the day wins. Today that was Roselands.
"I said at the start I wanted to get to the Premier Division in consecutive seasons and to reach the Herald Cup final and to win a Devon cup. We've won a Devon cup, hopefully we might win a second one and now we're in the Herald Cup final. Roll on Good Friday – and it's going to be a Good Friday, trust me!"