Division Two leaders Salcombe Town brought a coachload of local supporters up to Bovey Tracey FC on Friday night as they took on Buckfastleigh Rangers in the club's biggest match to date – the Lidstone Cup final. After a nervous and goal-less first half, the South Hams side scored twice after the break – a penalty and a deflected goal – to emerge 2-1 victors.

While Salcombe, a club which has only been in existence for six years, were getting used to the novelty of a cup final, Buckfastleigh Rangers had literally been here before – fielding a very similar side to the reserve side well beaten by Liverton reserves at the same venue in the 2015 Les Bishop cup final. As might have been expected, Rangers settled far quicker into the game and were the better side in the first half. A rushed and wasted cross by Willie Giffen, two minutes in epitomised Town's first-half display, a shot narrowly wide of Ewan Grewal's left-hand post three minutes later, from a Rangers corner a little too close for comfort.
"It was nerves," admitted Salcombe manager Phil Greaves after the game. "We were scared to bring the ball down, we lacked composure when we normally don't. It was the occasion and being scared to make mistakes."
The next effort of note came on nine minutes, the busy Finn Graham blazing one over from distance. At the other end, Kieran Stallard pumped a hopeful free-kick into the Rangers box which was immediately lost in a sea of green. Referee Steve Pearce showed that he was prepared to come down hard on any nonsense with the experienced Glen Palmer given an early yellow card, 13 minutes in, for a late challenge. Again Stallard's free-kick came to nothing though as Rangers easily cleared. Salcombe's need to get a grip on the game was highlighted in the 15th minute when Grewal was forced to tip the ball over his bar from a 20-yard drive. Declan Cowley was also starting to make inroads down the Rangers right, beating Kieran Stallard and driving a low shot wide and sending a threatening cross in later which Salcombe did well to head away. Yeoman then presented a chance to Kieran Stallard at the other end but his wild shot went well over the bar. Jason Saw then sent a deep ball over to the right-hand corner flag where Cowley was stationed but the ball ended up going behind for a goal kick. Just as it looked as if it would be a matter of when Rangers would find the opener, Yeoman almost caught Wood napping at the back, the goalkeeper recovering well after almost conceding possession. Then Rangers were back on the offensive again, a Palmer free-kick deflected into touch off Graham; Cowley feeding Arren De Young whose blocked shot brought shouts of handball and another breakaway move halted by the offside flag after Palmer had cleared from a Ward delivery.
Yeoman then almost fashioned a breakthrough as a burst of pace took him past Mathew Wicks and around Wood only to see his shot blocked by the recovering defence. The ball was put back in and Charlie Barnes fired wide as Salcombe finally began to grow into the game. Barnes was again involved moments later as he drove into the box from the right and hit another shot across the goal which was cleared away. A series of corners then almost bore fruit for Salcombe, Graham heading the first away and the second eventually going behind for a goal-kick. Rangers then created another couple of chances: first another shot from the right went wide of the mark; then Graham whipped in a bending cross from the left, Tayler Pierce heading wide. Barnes then tried to send Giffen away on the right but his ball was too long. Matthew Thorn received a yellow card for a block on De Young who took the resultant free-kick. That effort was blocked but Salcombe conceded a second free-kick, De Young well wide with that one. De Young continued to pull the strings for Rangers but the final ball was lacking, his next cross far to high for Piercy to reach despite an athletic leap from the wide man.
As the half drew to a close there were some promising signs for Salcombe. Thorne tried to release Barnes with a deep ball which was just too long; Yeoman drove in from the left after winning a free-kick in a promising position and Giffen shot over the bar. The last action of the half saw a confident Luke Milton rise to head Saw's searching ball away from Graham.
HALF TIME: Buckfastleigh Rangers 0-0 Salcombe Town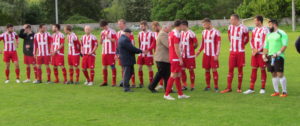 Salcombe started the second half with intent with Thorne setting up Yeoman who blasted over from the right-hand side. Barnes was then tripped by Charlie Morgan as Town pushed forwards. Salcombe manager Phil Greaves then introduced Callum Nolan into the fray and the substitute made a big impact on the game with his creativity and skilful footwork. Salcombe were fortunate not to go a goal down though when the usually clinical Pierce hit a right-footed shot past the right-hand post after De Young had beaten Thorne with a clever pass. After a Palmer free-kick came to nothing, Salcombe then piled on the pressure, Nolan orchestrating a move which ended up in Barnes winning a series of corners, Connor Hayman heading off the line to keep out the opener. A typically robust challenge by Saw on Barnes saw the Rangers man added to the growing list of cautions before Salcombe created another good chance, Yeoman slipping between two defenders to set up Ward. The latter's shot didn't have the power to beat Wood but the ball cam back out to Yeoman, Hayman doing well to recover possession. The reprieve was only temporary though, Ward instigating a move which saw Thorne find Barnes who beat his marker before getting the ball back out to Ward on the overlap. Once again it was Hayman who got the ball away as Ward crossed into the area. Moments later, Wood scurried out to beat Yeoman to the ball after a through ball from Barnes. Meanwhile, at the other end Milton put in a great tackle to cut off Cowley's run. Barnes then cut inside Palmer and unleashed a low shot which Wood did well to hold. Cowley then hit a wild shot high and wide from the Rangers left. Grewal was also wild from his goal-kick, hoofing it into touch on the Rangers right. Cowley again drove in from the right but Salcombe were looking more comfortable all over the park now and Ollie Stallard put in a fine tackle. Grewal then produced a great save from a Palmer header to keep the scores level. Then it was up the other end as Ward switched the ball over to Nolan in space on the left. He accelerated past Hayman and fed Yeoman who teed up Ollie Stallard for a shot on goal, Wood making the save again. The Salcombe management were keen to get the message out to Nolan to take the corner but the moment passed and Ward failed to beat the first man, allowing Rangers to clear and go back on the offensive. Easterbrook was unable to keep the ball in as Rangers attacked up the left but moments later the ball pinged off the Salcombe post as another chance went begging. Back came Salcombe but Rangers defended well, Saw clearing from Yeoman and Palmer heading a Thorne cross out after more good work down the left by Nolan. Next, De Young forced Grewal into a save after a deep Rangers free-kick had only been half cleared.
The opener finally came when Barnes went down in the box under a challenge. As he tried to regain his footing he appeared to be hauled down again. Whether for the first or second contact, Pearce pointed to the spot and Yeoman had the chance to make his mark. The former Torquay United player made no mistake, lashing a confident right-footed strike into the bottom left. From the restart, Rangers moved up the right and Morgan went crashing down. The referee was less than impressed though and produced another yellow card – for simulation. Salcombe looked to press home their advantage and Barnes drove past two Rangers players before unleashing a shot which Wood saved at his near post. Twice, Graham tried to find an opening for Rangers at the other end but Salcombe cleared both times while, in between those attacks, a great ball down the left saw Barnes manage to win a corner for his side. Town made their second substitution of the game, Ryan Colmer on for Thorne and it wasn't long before his name was on the score sheet. In full flow, Yeoman stole the ball from Hayman's toe and played it to Nolan. His low shot took a wicked deflection which left Wood standing. Although the ball appeared to have come off Saw, the goal was officially credited to Colmer. To their credit, Rangers responded well and were immediately rewarded with a corner. Palmer rose highest to head the ball back into the Salcombe box and Easterbrook pounced to reduce the deficit and set up an exciting climax. A heavy tackle from Milton on Morgan earned him a yellow and then Morgan was penalised for a foul. From the resultant free-kick, Barnes took a superb touch on the left touchline  to bring the ball down. He played in Nolan but Easterbrook intervened to get the ball away. As time began to run down, the match became end-to-end. Barnes won a late corner and Salcombe tried to keep the ball near the corner flag but Rangers managed to steal it and launch one last breakaway attack. Out came Grewal to snuff out the danger and moments later the referee blew the whistle to spark the celebrations.
FULL TIME: Buckfastleigh Rangers 1-2 Salcombe Town
"It was a special evening because it was the first trophy that the team has ever won," said Greaves. "It's up there with what I've done in my career, management-wise. The whole town were behind us so it was a super event.
"It was a great game of football played in a good spirit from both teams and I think it was a game of two halves – the old adage really. They had the first half and the second half belonged to us. We held on late on as they threw the kitchen sink at us and defended well. I may be slightly biased but I think we deserved it.
"At half-time we sat them down and told them what they had to do," he explained. "I think bringing on Callum Nolan changed the game. He had played for us all year but he's had a young child and not been available of late. I had to stick with the guys who had seen us through it today but it wasn't working out for one of them so I thought it was the ideal time to stick him in there."
With talismanic captain Yeoman the biggest name on the team sheet, Salcombe are often accused of relying on his experience and goals to win games but anyone present on Friday night will have noticed big performances all over the pitch.
"We get that tag all the time," said Greaves. "But when you see the guys playing week in, week out and we win games with Ash not scoring goals you can see what a team player he is as well. Even on Friday night, his work rate, how he keeps the ball in times when you're under pressure, his comments. He's just an all-rounder and a great team player but we have got there the backbone of a really good team. I want to try and increase the squad in numbers for next season and have another go but I think people now realise we're not just a one-trick pony."
Although it is unlikely Salcombe will win the double – Paignton Saints look set to overtake them with their game in hand – promotion has been secured and the South Hams side will be playing Division One football next season.
"I like to set myself a target," said Greaves. "I've not seen much Division One football in all honesty – one or two games – but I don't think, from what I have seen, that it will be above where we need to be. I would like to see ourselves pushing  for promotion again. We've got some silverware, which is great, and the future is looking rosy."