Les Bishop Cup Winners 2017: Barton Athletic (c) Derek Castree
Barton Athletic lifted the second of this season's WBW (Solicitors) SDFL divisional cups, the Les Bishop Cup, after coming from two down to clinch the trophy on penalties.
Following a minute's silence in memory of the mother of Newton Rovers' Eyup Ozbek, who passed away on the eve of the match, beautifully observed by the 225 supporters who attended, a real topsy-turvy game ensued.
Newton Rovers kicked off and were soon on the attack. They cut through the Barton defence almost at will and it was no surprise when the found themselves two goals up in the first 20 minutes. On ten minutes, Jamie Parker, up from the back for a corner, prodded home the loose ball from a yard out following a melee in the six-yard box. Ten minutes later, Scott Clausen put the Rovers two up with an exquisite finish. It all looked plain-sailing as Barton struggled to get going until, with a sudden change of emphasis using the width of the pitch, they started to push the Rovers back. Left wing-back Kriss Darke started to see more of the ball and he eventually pulled one back for Barton with a rasping shot into the roof of the net just before half-time.
HALF TIME: Barton 1-2 Newton Rov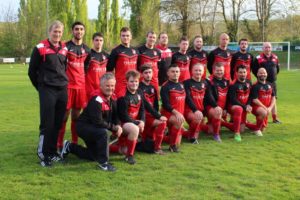 As the second half progressed, Barton seemed to be getting the upper hand. However, Rovers substitute Kieran Fletcher wasted a terrific chance to score their third goal and possibly seal the match. Within ten minutes of appearing, he raced clear into the box; a collision between the Barton 'keeper and his centre-back left Fletcher with an empty net in front of him. Inexplicably he dithered and somehow lost control of the ball allowing two Barton defenders to block his passage and clear.
That proved to be Rovers' only real chance as Barton, encouraged by their good fortune, pressed forward in search of the equaliser which was duly supplied by Lee Henrique who, half way through the half, raced unchallenged into the box to finish with aplomb. There were no more chances for either team and the game went into 30 minutes of extra time.
FULL TIME: Barton 2-2 Newton Rov
It soon became clear that both teams had given everything in this end-to-end encounter, well controlled by referee Steve Luxon in the middle. Both sides made substitutions but the one that made the difference was the replacement of Barton's Lawrence Purdie, who was clearly struggling after his collision earlier, by Rich Vicary. His imposing figure seemed to have the desired effect as the game went into a penalty shoot-out. He saved the first Rovers penalty and watched on as two other Rovers attempts went wide of the mark whilst his team-mates didn't let him down, scoring all three of theirs to take the trophy.
FINAL SCORE: Barton 2-2 Newton Rov (Barton win 2-0 pens)