Close Battle: Roselands' Jerrad Routledge tackles East Allington substitute Lee Morgan in Good Friday's 87th Herald Cup final. (c)MiraclePR.com
A close-run Herald Cup final ended in late drama as East Allington came from a goal down to emerge 2-1 winners after extra-time at The Rec on Good Friday.
"Start quick," was the last-minute command from the Roselands bench as the Paignton side sought to capitalise on East Allington's tendency to take their time to settle. And except for a wide shot from Simon Hannaford in the first minute and a searching Andy King ball down the left which was too far ahead of Ben Robey, the first ten minutes was all Roselands. Tom Dunlop won the first corner of the match, following a second minute Roselands free-kick but the referee's whistle eased the pressure as a foul in the box was spotted. Next, Dan Hurrell was forced into a hurried clearance as Dexter Allsworth probed up the left-hand side and Sol Barclay's deep free-kick gave Richard Teague his first test as the ball dropped on to him.
The first real shot on target came on 11 minutes. Andy Davis slipped Jerrad Routledge and fed the ball to Hannaford whose low shot was comfortably smothered by Josh Stride. It was a real piece of magic from Davis who was clearly going to be given special attention by Roselands. Referee Paul Allen made sure that Allsworth understood the limits of that attention as he spoke to the Reds' player after a physical challenge on Davis moments later. Robey then sent in a wicked corner from the East Allington left, Stride forced to punch the ball high over his crossbar to prevent the opener. The Pirates were now warming up nicely but so was Stride as he beat out another fine free-kick from Davis and caught the resultant corner. A minute later, Tom Rowdon played a superb ball to set Robey away down the left but the latter decided to curl in a shot from distance rather than bring the ball inside and the effort curled harmlessly wide. In the 19th minute, some fantastic positional play from Dunlop intercepted the ball just as Hannaford looked set to release Rowdon for a clear run on goal. Two minutes later, Luke Steward lashed the ball away from danger as East Allington continued to press. Dunlop then hit a pass too short on the edge of his area but made instant amends with a brilliant tackle on Hannaford that was applauded by both sets of fans. Moments later, Davis smashed one past the left-hand post. With 26 minutes played it was the nippy Richard Malone with the next attempt at goal, hit wide of the mark, fellow number nine Hannaford then hitting a grass-cutter at Stride who once again excelled himself to get down and cover it. Play was now passing from one end to the other. Marc Hagland put Malone through in the 29th minute but Jamie Batchelor did well to snuff out the danger and win the goal kick in the process. Three minutes later, some sublime pass-and-move football between Hannaford and Rowdon won the Pirates a corner but Roselands defended it well. King then set Robey free down the right again but the latter once again opted to shoot early – with the same result as before. With ten minutes of play remaining in the first half,  some quick passing in the Roselands midfield opened up what looked like a gaping hole in the East Allington defence – only for Dan Bowles, who had barely put a foot wrong all game – to charge across and fill it, denying the Reds a run at goal. With six minutes remaining, East Allington looked to finish the half strongly, Hannaford and Davis with several shots blocked. Davis then almost sent Fred Massey through on goal before, at the other end, Hurrell headed out a dangerous curling Hagland free-kick. Another Roselands free-kick broke down and suddenly the Pirates were breaking in numbers, Massey, Robey and King involved in a promising move which was brought to a close by the half-time whistle.
HT: 0-0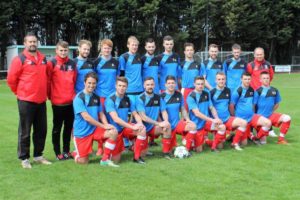 The second half started slowly, Davis's 51st minute high cross collected by Stride in the first attacking move following the break. Massey then sent in a ball for Hannaford but Routledge got in-between and headed the ball away from danger. Roselands' first attack of the second half was orchestrated by Mitch McMillan who set up Malone but the East Allington defence held firm. Massey then ran at the Roselands rearguard but couldn't supply the final ball needed. There was a fierce exchange of words between Davis and Allsworth as their running battle continued before Josh Pascoe swung in a corner, just before the hour mark, Roselands again clearing their lines effectively. Some more end-to-end football saw Hagland fire wide after a promising Routledge run; Roselands slamming the door shut on another Massey run and Malone caught offside as play went back the other way. Hagland then wriggled free of Hurrell only for Pascoe to provide effective cover for his defensive partner. After some good passages of midfield play by both sides, the next attack saw Rowdon slam the wall with a free-kick and Davis's follow-up saved by Stride. At the other end, Bowles slammed into the post as the Pirates defended a Roselands attack. With 72 minutes gone and no one yet able to break the deadlock, Davis showed his defensive abilities by racing back to dispossess Malone. With 15 minutes to go, Robey ran with intent down the East Allington left and was brought down, in full flight, by Allsworth in perfect Andy Davis free-kick range. Allsworth found himself in the referee's book but Davis's free-kick was uncharacteristically blasted well over. In the 78th minute, Andy Weeks made a substitution which would have a big impact on the final result, Massey making way for James Ivatts. However, two minutes later the game swung dramatically in Roselands' favour, Steward rising unchallenged from a corner to power home an 80th minute header past Teague. As the end of the ninety approached, Allsworth was replaced by Phil Corvisieri, a wayward free-kick from East Allington missed everybody and then striker Lee Morgan came on for Pascoe. But it was the first substitute who made the vital impact with two minutes left on the clock. Robey showed great tenacity on the right-hand side before putting the ball into the Roselands box. The Reds failed to get it clear and Ivatts fired a clean shot across Stride and into the back of the net to level for the South Hams side. Robey sent in a last minute cross as East Allington looked to get a winner but it was Barclay who could – and perhaps should – have ended the contest. Two minutes into stoppage time, standing unmarked at the back post, the ball arrived at the Roselands player's feet. But he snatched at the chance and side-footed wide. There was still time for Davis to curl a free-kick high and wide and for Corvisieri to get a shot away before the full-time whistle blew.
FT:1-1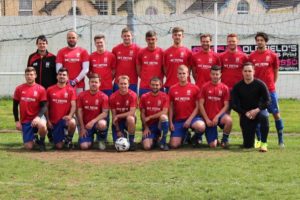 Both sides flew out of the traps as extra-time began, Malone sending in a threatening cross, caught by Teague, and then setting up semi-final hero Martin Luker whose shot was blocked. At the other end, Steward did well to keep Hannaford from shooting at goal while Stride saved from Rowdon. Roselands' Danny Brown, on for Luke Dandy, hit his shot at Teague and a combination of his distribution and a lack of concentration at the back gave Hannaford his chance to win the match. Teague targeted the left-hand side of the pitch with his kick and Hannaford found enough space to unleash a ferocious shot which, for once, found its way over Stride and into the top of the goal. With only five minutes gone in extra-time the game was not over yet though. Hannaford had another shot saved and McMillan received a yellow card before Roselands piled on the pressure with a series of corners, Dunlop now playing a more advanced role and doing his utmost to fashion an equaliser.
Two minutes after the switch around, Roselands looked to have won a corner, but the referee had spotted a Corvisieri push and gave the free-kick instead, much to the young player's frustration. At the other end, Davis found himself with a clear sight from a corner but completely missed his shot to the relief of the Roselands team. The industrious Corvisieri then showed his qualities in a busy spell which saw him go down in the box – the penalty appeal waved away – before firing a shot over and then rushing back to dispossess Hannaford with a fine tackle, winning a free-kick in the process. Morgan had a shot saved and Hannaford was caught offside before one final chance for Roselands. In the last minute of the game, Teague dropped a cross over the line to concede a late corner. Up came Stride but the set piece was defended and the final whistle proclaimed East Allington as the 2017 winners of the Herald Cup.
"I'm happy for the people who run the club," said East Allington manager Andy Weeks amid scenes of joyous celebration. "They've been here for 30 or 40 years at least so they deserve it. I'm just there to pick a team at the end of the day."
With both defences having performed so well for so long, Weeks admitted that the lapse that led to the Roselands opener would have been hard to take.
"I don't mind losing a game, but the way we conceded that goal when they went one up with ten minutes to go, if we had lost to a soft goal like that it would have been more disappointing than anything.
"Thankfully, this season especially, we are a lot fitter and don't give up. That proved it as we went again and managed to score and equalise with about two or three minutes to go with Bam coming on to notch. Then, in extra-time, we got off to an almost perfect start with that man Simon Hannaford. It was probably about the only chance he had in the whole game but he was there when we needed him."
Amongst the South Hams supporters were those who had been present at the side's first ever game, 64 years ago.
Having replaced Waldon Athletic as Herald Cup holders, East Allington United now have the chance to take the Clarets' George Belli Cup crown too. The two sides meet in that final on May 12th at Bovey Tracey FC.
Roselands will play Cronies FC in the final of the Firewatch Devon Senior Cup at Coach Road on Thursday evening (7.15PM) and are also in the Dartmouth Cup final against Stoke Gabriel Reserves on May 19th (Liverton United FC, 6.45PM KO). They are also aiming to secure promotion to the Premier Division with eight league games left to play.