The clock is ticking down towards tonight's exciting Herald Cup semi-final at The Recreation Ground, Newton Abbot, where SDFL Premier leaders Buckland Athletic will take on First Division title challengers Roselands.
Buckland showed their credentials last Saturday afternoon with an accomplished performance against potential Herald Cup finalists East Allington United, ending the game 4-1 winners with two-goal Jordan Ewing in sparkling form.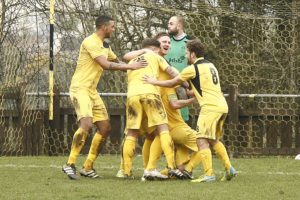 With Roselands' Devon Senior Cup semi-final against Lakeside Athletic postponed, manager Simon Walker took a second look at his upcoming opponents in as many weeks.
"I know quite a bit about their players individually but it's always good to have a look at them together as a team," said Walker. "I came and had a look last week but didn't stay very long because the opposition didn't put up much of a fight and there was nothing to be learned. I knew that East Allington would roll up their sleeves and give it a go.
"I don't think anything I see today is going to make a difference to what we do on Wednesday," Walker added. "I know the team and the formation I'm going to put out, the tactics and the style of play. I don't want to give too much away but we're looking forward to it."
Both sides made the semi-finals of the Herald Cup last year but while Buckland overcame Newton Abbot Spurs Reserves to make the final for the fourth time in five seasons, Roselands missed out on their first ever final with a 2-0 defeat to eventual winners Waldon Athletic. Having only formed six seasons ago, getting as far as they did was testimony to their progress but Walker admitted that they failed to do themselves justice twelve months ago.
Their meteoric rise from Division Six to the verge of the Premier – a feat only matched by Watcombe Wanderers in recent times – has surprised some but not Walker.
"My aim was to get to the Premier in consecutive seasons and so far that has happened – with a lot of trophies along the way.
"I'm hard working and the players are hard-working; they're an honest bunch and we don't treat any of our opponents with disrespect. We worry about losing every game we play so we go out and we try and win that game.
"We're a good footballing team and we've got a lot of heart. We're still very young. We've got one player in their thirties and the rest are lads from sixteen upwards who have been together for a long time. There's further success ahead hopefully.
"We've got a lot of games to play now, unfortunately, because of the cup runs. We've got three semi-finals now in ten days," continued Walker, who has also led his side to the Division One (Dartmouth) Cup semi-finals.
"We're used to that. We generally have to play more games than any other team in the league every season if you look through the statistics. Last season we won the league and the (Division Two, Lidstone) Cup, we got to the quarter-finals of the Devon Senior Cup and we got to the semi-finals of the Herald Cup.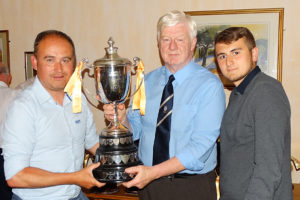 "We've probably pulled out the hardest team out of the three left. We know we're not favourites and Buckland are top of the Premier but this side of mine will go out and roll their sleeves up and give it 110 per cent; we always do. I think we'll surprise them and we've got a couple of players in our team who might catch them out."
As for Buckland, overcoming a hard-working and talented East Allington side will have been a big confidence booster for tonight's game.
"They hadn't lost for 13 games so that was a great result for us," said player-manager Lee Chapman. "I hope East Allington go and take points off people because they're a good solid outfit.
"We showed in the second half what we're made of by fighting for each other. First half, we didn't play so well but we came out in the second half and showed people what we're made of.
"We've just got to take that into every game now and keep battling and keep fighting until the end because it's not over – there's going to be plenty more twists and turns."
Could one of those twists happen tonight at The Rec? Come and find out!
Tickets for the final are £4 on the gate (£2 concessions) with 50p helping to boost the SDFL Benevolent Fund for supporting injured players. Kick off is at 7.15pm and there will be a collection during the evening for Brain Tumour Research, the charity supported by SDFL sponsors WBW Solicitors.