Main Image: Buckland's Jodie Chubb races to intercept Bristol's Ellie Strippel (c)MiraclePR. To view/purchase pictures from the game please visit the match gallery.
 Losing a football match is never a pleasant experience but when defeat comes against one of the top ten football clubs in the country, the learning experience is a huge consolation – not to mention the chance to share the pitch with some of the country's brightest prospects.
Bristol City WFC kick off their Women's Super League winter season campaign away at Chelsea LFC on the 24th September. Their squad will contain a number of England Youth players including goalkeeper Caitlin Leech; defenders Ellie Wilson and Jasmine Matthews, midfielders Flo Allen, Jodie Brett and Megan Alexander and striker Millie Farrow.
Defender Corinne Yorston has a handful of England senior caps to her name while seasoned international defender Frankie Brown and fellow Scot Chloe Arthur competed for Scotland in last month's 6-0 defeat at the hands of England. Loren Dykes, another Vixens defender, has pulled on the Welsh shirt over 50 times while midfielders Hayley Ladd and Georgia Evans are also part of the current Welsh squad.
So it was a real treat for local football fans when Bristol City WFC brought a combined college/development squad down to Homers Heath last Sunday for their first pre-season game.
Buckland started positively but the first chance went the visitors' way, Chloe Gilroy heading wide of Abbi Bond's goal, Bond pulling on her gloves for the first time since being sidelined with a broken ankle.
Moments later, the Buckland defence received the first signs that they were in for a difficult afternoon when England Under-17 forward Lauren Hemp got behind the full-back and sent a dangerous low ball into the box, Gilroy again wide of the mark.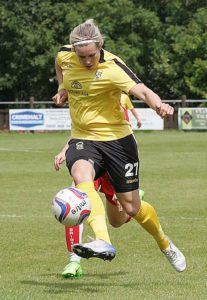 Buckland then fashioned their first real attempt when the industrious Laura Gough latched on to a Bristol back-header before rifling her shot past the near post. Buckland were on the back foot again soon after as Bristol attacked with intent, Gilroy and Holly Chandler both seeing shots blocked by the Yellows defence.
Buckland then had their best spell of the half. First, a superb ball from stand-in captain Hayley Chamberlain put Gough and Abigail Meyer through, the latter shooting wide. Soon after, Kirsty Caunter put Gough through once more only for her shot to miss the target again. In between those efforts, Bristol had a penalty appeal waved away after one of their players went down on the edge of the box.
With Bristol looking dangerous with every attack, it was no surprise when they scored the opener, Courtney Murphy's low ball across the box converted by Hemp. To their credit, Buckland immediately responded, Natalie Warman sending in a cross from the left that Gough only just failed to connect with. But it was Bristol who found the net again soon after, tall centre-back Amy Goddard coming up for a corner and heading past Bond.
Grant Fisher introduced Helen Kukor up front, Caunter making way, and Kukor was immediately into the action, combining well with Chamberlain and Gough, but Bristol defending well. Warman also won a free-kick on the left-hand side as her attempted cross was cut out by a Bristol arm but the Bristol goalkeeper – who had been borrowed from Buckland for the day – gathered comfortably.
Even at two down, a Buckland goal before the break could have made things interesting but it was the team in red who notched next, Jess Wooley powering home a fine strike from the left-hand side of the box to send Bristol in three up. To make matters worse, the half ended with Kukor going down and picking up a hand injury as she attempted to drive up the left touchline.
HT: Buckland Athletic LFC 0 – 3 Bristol City WFC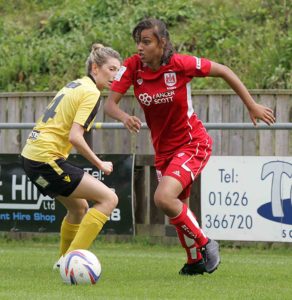 Unable to get the goal at the end of the half, Buckland did the next best thing with an early strike after the break, Warman with a great goal to reduce the arrears. Any hope of a comeback was soon thwarted though as Goddard converted substitute Ellie Strippel's free-kick for a fourth.
Following that goal, the game turned into the Lauren Hemp show. If the just-turned 17-year old had been dangerous in the first half then she was positively lethal after the break and could have scored more than the one she did put away. Turning her marker with ease, Hemp sent a warning effort from the edge of the box crashing against the bar.
Substitute Libby Goater was wide with Exeter's next effort before Buckland managed to force a save with a low shot at the other end. Then the ball was with Hemp again, her shot from the left cannoning back off the post this time before ending up in Bond's grateful arms. Gilroy headed over and Hemp hit the side netting before the fifth goal finally arrived, Hemp again involved as her shot was blocked by Bond's leg before Holly Reed netted from the follow-up. Moments later, Hemp was popping up on the right, bursting past Potts who went down for some time with an ankle injury. When the game resumed, Hemp tried one final time to bag herself a second goal but her shot cleared the bar.
Looking beyond the scoreline, Buckland will have benefited greatly from their Bristol challenge and should feel ready to take on anyone the SWWFL can throw at them.
"I thought it was a great workout for us as our first pre-season game of the season against a good opposition," said Bristol City WFC Development Coach James Thomas.
"Although we had a young squad we showed plenty of patience and composure in possession of the ball and the pace and incisiveness of our attacks were really pleasing to see.
"I'd also like to thank Buckland for their hospitality and the opportunity to bring a team down as part of our preparation for the coming season."
FT: Buckland Athletic LFC 1 – 5 Bristol City WFC
Goals – Buckland: Natalie Warman
Bristol City: Amy Goddard x 2; Lauren Hemp; Holly Reed; Jess Wooley
Buckland Athletic LFC: 1. Abbi Bond; 2. Corinne Potts; 4. Carla Staddon; 5. Jodie Chubb; 6. Courtney Butt; 8. Gabi Trays; 9. Hayley Chamberlain (c); 10. Laura Gough; 12. Natalie Warman; 14. Abigail Meyer; 31. Kirsty Caunter
Substitutes Used: 3. Katie Sawyer; 7. Chloe Driscoll; 16. Leanne Kenward; 17. Charlie Maling; 27. Helen Kukor
Bristol City WFC: 4. Amy Goddard; 7. Chloe Gilroy; 11. Holly Reed; 15. Jess Wooley; 19. Courtney Murphy; 21. Holly Chandler; 23. Amina Vine; 24. Aimee Palmer; 26. Ellie Butler; 27. Lauren Hemp.
Substitutes Used: 10. Destiny McDonald-Ferguson; 12. Libby Goater; 14. Ellie Strippel